What Roles Did Thomas Edison & Henry Ford Have In The Detroit-Based Sanders Chocolate Company?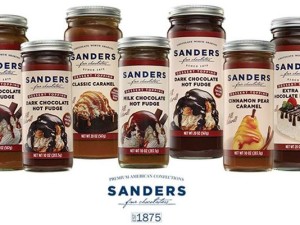 Happy 140th Birthday to my favorite chocolate company, Sanders.  It was on this date in 1875 that Fred Sanders opened his first candy shop that later went on to sell ice cream and other treats.  A Detroit-based business, Sanders was one of the first companies to use electric motors which were used to run the candy machines.  These motors were built by the Edison Illuminating Company.  The new technology proved to be troublesome for Fred Sanders who grew frustrated after the motors broke down.  It was Thomas Edison who convinced Sanders to give the motors another try and sent in one of his best repairmen, a young employee named Henry Ford.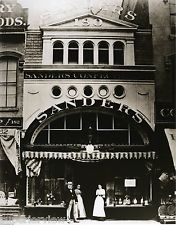 If you like ice cream soda, you can also thank Fred Sanders, who is often credited with inventing the delicious concoction.  It was on a hot summer day that Sanders discovered the milk and cream in his shop had gone sour.  Not wanting to disappoint his customers, he substituted ice cream and the now famous dessert drink was born!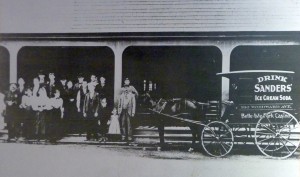 According to the Sanders website, Fred Sanders was also a visionary, owning one of the very first electric cars created in the early 1900s. Sanders would drive his family to his downtown Detroit candy shop in style but the vehicle would often not make it back home, becoming temperamental and only operating in reverse.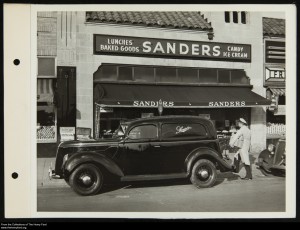 Not only does Sanders still make the best chocolates in the world, the history of the company is fascinating, with Fred Sanders, Thomas Edison and Henry Ford working together to innovate and help bring chocolates to the world!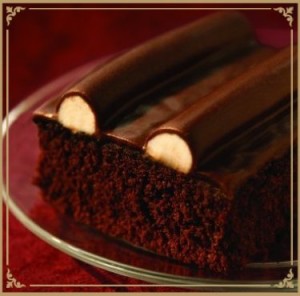 Sanders famous chocolate Bumpy Cake