Products
In addition to speaking, performing and consulting, Michael Mode invents original products that his company, Big Lightbulb Inc., manufactures and distributes. Michael has created several magic effects that are used by thousands of magicians, including many of the top names in magic.
 In 2004, Michael introduced his Napkin Rose product line.  Michael's instructional DVD on how to make Napkin Roses is now in its ninth printing, and the five different colors of Napkin Rose Napkins have sold in the millions, helping to make countless memories around the world. For more information on Michael's products, please visit www.NapkinRose.com
Michael's love of jokes led him to create the Best Jokes Ever App
with one of his longtime friends and fellow entertainers, Jeff Hobson.
Best Jokes Ever was a best selling App, downloaded in more than 80 countries.
Michael and Jeff are currently updating their joke App and will also be publishing the collection as a book.
Designed for professional magicians, Banner Magic! is three time-tested routines, Princess Card Trick, 52 on 1 and The Long Card, in a new banner format that opens and closes like magic. The perfect prop to have on hand when you need extra performance material. Pack small. Play Big. Always be ready to (un)roll.  Available from finer magic dealers worldwide.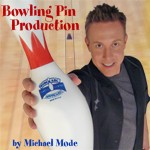 You start your show and tell the audience, "I just got this jacket back from the cleaners and I think they left a pin in the sleeve." You remove your jacket, push your arm through the sleeve and… PRODUCE A REAL BOWLING PIN!
It doesn't get any more magical than this! Can be done up close in almost any outfit.
You can even produce the bowling pin without a jacket, from a short sleeve shirt!  Available at finer magic dealers worldwide.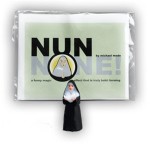 Performed by Muhammad Ali, Steve Martin and thousands of other magicians worldwide!
Michael Mode's first product which was released in 2003. The magician produces a coin to illustrate a simple math problem. As he removes the coin from his hand, he asks a spectator, "What is one minus one?" "None!" the spectator confirms. The magician then opens his hand a small nun is produced.  Currently unavailable but will be re-released in the near future.